Lately around these parts, Tuesday has been synonymous with Sometimes & Always, but today there is more...I try to have a different theme every Tuesday to change up the link-up and this weeks theme presented itself. Courtesy of
Raven
, I will be dedicating today to TATTOOS!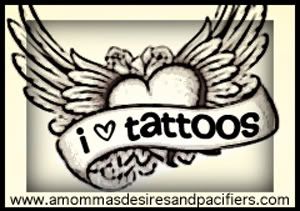 *GASP*
Are those even acceptable in the blog world??
Don't know- Don't care.
Plus, I know that even if you disagree with tattoos, you can't help but be fascinated by them,
and even more importantly- I know that you wouldn't try to argue with Raven.
Let us not forget- We are combining "I Heart Tattoos" and "Sometimes & Always".
That's like having a devil (
Raven
) on one shoulder and an angel (
Meg
) on the other. If you know them- you are SO nodding your head in agreement right now ;)
Sometimes: People don't believe me when I tell them I have tattoos.
Always:
I am proud to challenge their stereotypes of people with tattoos.
Sometimes: I even forget that I have tattoos.
Always: When I see them in the mirror, they make me smile.
Sometimes: I wonder if I will ever regret my tattoos.
Always: I have never had regret for any thing in my past, so I will probably always see them as life experience and TOTALLY worth it.
Sometimes: I wish I could cover my body in tattoos like this~

Always: I realize that it would make me look like I was trying too hard. I'm just not cool enough to pull that off...
Sometimes: I claim to be DONE with tattoos.
Always:
I continue adding to the ones I have, and because of Raven- I now have plans for at least three more. Don't worry, they are lil' thangs!
Arch Heart:
Year
2003
Artist
Moi
When your art teacher leaves you without new projects,
you make your own.
(Not pictured, whoops)
Celtic Heart:
Year
2004
Artist
Bull Dog Tattoos
It was fun getting this one, since I had about 15 people there staring at my butt...
AWKWARD!
My wrist:
Year(s)
Cherokee symbology- 2006
Feather-2007
Artist(s)
Lettering-Random shop
(Which is why it still isn't finished)
Feather- Diamond
Diamond travels the world working on celebrities, but he did mine in my friends
backyard in Miami while I was sitting on a gas can, leaning on a speaker.
Priceless.
(I promise it was more sterile than it sounds)
Rib Designs:
Year
2007
Artist
Designed by Moi
Inked by BJ at Colorfast
He is a friend of mine and I let him use me for practice.
I like being a test subject! Just make sure you trust the artist.
Ps. This was the most painful...obviously.
My Pirate "J":
Year
2008
Artist
Colorfast
Probably the best story-
My friend Jay thought he would be clever and dared me to get a "J" tattoo, so I did.
I said, "Put your $ where your mouth is", and we went to the parlor.
Are you still my friend?
I promise I'm a good girl...mostly.