So here is the menu that I have decided on for New Year's Eve and Day!
Thyme-less Pork Tenderloin and Sauerkraut
It incorporates the Pork (symbolizing moving forward in the upcoming year) and cabbage (symbolizing $$$). Very easy recipe, just make sure you start it in the morning or early afternoon, since it will have to simmer in the slow cooker for 6 hours!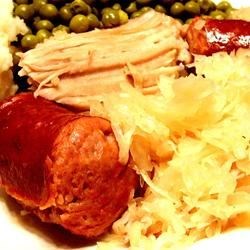 Ingredients for 12 servings:
(There are only 2 of us, but Will eats a LOT and we both like leftovers!)
1 (2 lb) boneless pork loin roast
2 tbs. Olive oil
2 sprigs fresh thyme leaves
Salt and pepper to taste
4 lbs. Sauerkraut
1 lb. kielbasa, cut into 3 inch pieces
Preparation:
PREHEAT the oven broiler. Place the roast in a roasting pan, brush with olive oil, sprinkle with thyme leaves, and season with salt and pepper. Place under the broiler for 10 minutes, until lightly browned in several places.
PLACE 2 lbs. sauerkraut in a slow cooker. Arrange kielbasa pieces around the edges of the slow cooker pot, and place the roast in the center. Cover with remaining sauerkraut.
COVER the slow cooker and cook roast for 6 hours on high. (we found that 6 hrs might be too long at high, so either turn the heat down and cook for full 6 hrs or cook only 4-5 hrs on high)
Nutritional info!
In one serving (1/12 of the entire pot) there are only 229 calories! For a dish like this with pork, sausage, olive oil and sauerkraut that's pretty darn good!
Total fat: 15.7 grams, Cholesterol: 52mg.
Hoppin' John Black-Eyed Peas
A very traditional Southern New Year's dish and it incorporates pork again (it's what gives the dish its heart-warming flavor), as well as the Black-eyed Peas that signify prosperity! It is a tribute to the old saying, Eat peas on New Year's day to have plenty of everything the rest of the year." To insure this, you must eat at least 365 peas so that those peas will yield success for you ;)
Ingredients:
16 oz. black eyed peas (dry)
3 tsp. virgin olive oil
1 whole onion
1 whole green pepper
2 pieces chopped garlic cloves
1 tsp. fennel seeds
3 pieces bacon (recipe says optional, but don't take this out of the recipe if you want it to be full of flavor!)
2 whole bay leaves
1 whole ham bone (this is also optional. I may leave this out. Yes, it will add more flavor, but I think I'll be happy with the bacon)
1 pinch pepper (I like lots of pepper!)
Scallions (enough to garnish or throw in while cooking, if you'd like!)
2 cups chicken broth ( I think chicken broth has too much sodium, so I use a powder mix from whole foods with 1/4 the sodium as regular or for an even better substitute use veggie broth, but again, check the sodium!)
Preparation:
SOAK the peas for 10-12 hours to rehydrate prior to beginning meal preparation. Drain the peas and place into a carefree crock-pot.
SAUTE the onion, green pepper, cloves, chopped garlic and bacon with the olive oil in a sauce pan over medium heat (or until bacon is crispy).
TOSS the items into the crock-pot along with the bay leaves, fennel, pepper and ham bone (if using). Pur in the chicken or veggie broth. if the broth does not come above the beans add a little more water.
COOK the mixture in the crock-pot set on high for 3.5 hours or low for 6 hours.
USE as a side or over rice or quinoa for a main dish. Don't forget to garnish!
*I omitted the olive oil by starting the bacon first and using the fat as a substitute for the oil. You already have the fat there, so why add more? It also allowed the bacon to crisp a bit first.
*I also added cumin, cajun seasoning and substituted de-seeded jalapenos, annaheim peppers and serano peppers for more flavor. just dont forget to de-seed!!
It is recommended to serve this dish at room temperature, but I like it warm. Especially, on this cold, snowy New Year's we're about to have!
For the Stroke of Midnight:
Green Grapes with Feta Cheese and Honey
Since I really liked the potential of this recipe, I am definitely supporting the Spanish tradition of eating 12 grapes upon each toll of the bell at midnight. We aren't going to be that literal about it, but you get the point. This tradition is also for prosperity, as well as ridding yourself of evil spirits and witches. I will be pairing this dish with some yummy champagne and a MIDNIGHT KISS!
Ingredients for 5 servings:
¼ lb feta cheese, crumbled
2 tsp. extra virgin olive oil
2 tsp. honey
Fresh ground pepper (it really is amazing the difference fresh pepper makes)
2 ½ cups green seedless grapes (approx. 1 lb.)
1 pear (I'm going to use apples instead)
6-8 fresh basil leaves, thinly sliced. I LOVE BASIL. Feel free to buy fresh and then dry out what you don't need after. It's like two for the price of one!
Preparation:
PLACE feta in small bowl and drizzle with oil and honey. Add the pepper and toss gently to mix. This can be left in the refrigerator for up to 8 hours to be finished just before serving if needed.
SHORTLY before serving, halve grapes lengthwise and slice pears (or apples) and mix them together. Then scatter the feta mixture over the fruit and garnish with basil.
Nutrition:
162 calories; 7 grams of fat; 20 mg cholesterol; 23 grams carbs; 4 grams protein; 2 gram fiber; 255 mg sodium; 211 mg potassium. The good outweighs the bad by far in this dish!
The morning after:
It's still a celebration on New Year's Day whether you are still continuing the party or still feeling its effects when you wake up. Either way, I think pancakes are PERFECT for this occasion! Of course, I am making a "healthier" version, but they will probably taste better anyways ;)
Ingredients
1 1/3 cups whole wheat flour
1 large egg
1 1/2 teaspoons baking powder
1 1/3 cups buttermilk (I used the powdered buttermilk. It worked just fine and now I don't have to throw out the leftover buttermilk)
1/4 teaspoon salt
1 tablespoon brown sugar
1/4 teaspoon baking soda
1 tablespoon oil
Preparation:
PREHEAT griddle.
STIR or sift dry ingredients together in medium bowl. Beat egg, milk, buttermilk, brown sugar and oil together. Stir into dry ingredients just until moistened. Batter should be slightly lumpy.
POUR ¼ cup batter for each cake onto a well-seasoned hot griddle. Flip the pancake when bubbles appear on surface. Only turn once and then done.
SERVE with sugar free syrup. Not every sugar-free syrup is yummy, but if you find the right ones then they are even better than "regular" syrup.
Feel free to add your favorite fruit in while cooking, such as sliced banana or my personal favorite- CHOCOLATE CHIPS! Recently though, I have come to grips with just how bad those yummy little semi-sweet morsels are, so I'm thinking that I might do banana and then use this new sugar free chocolate syrup we got. It has ONLY 15 CALORIES PER 2 TBS. vs. 100 calories per serving in the regular chocolate syrup.
Another option is to make fruit puree or sauce to replace the syrup altogether. The easiest way to do this is to spike some applesauce with cinnamon and brown sugar for some extra pizzazz.
(Obviously does not include the toppings or add-ins you may include in your recipe)
Each pancake is approximately 78 calories, 3 grams protein, 12 grams carbs, 2 grams fiber, 2 grams fat, 19 mg cholesterol, 1 mg iron, 178 mg sodium. This is amazing considering "traditional" pancakes can be anywhere from 500-1000 calories/serving!
After we have awakened from our food and euphoria coma, we will be organizing our garage and putting away the Christmas décor. I know you aren't supposed to do "work" on these days, but I feel like it will help set the tone for our year. I would like to start the year off getting our lives organized and ridding ourselves of unnecessary clutter while crossing BIG things off of our to-do list. I'm sure there will be lots of beer drinking for Will through out the process and I promise to watch heart-warming movies and share lots of giggles while enjoying this cleansing process. Well, until next year then….SEE YOU ALL IN 2011!