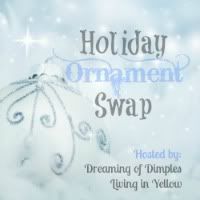 I am not gonna lie, when I first started this post yesterday morning, there was no ornament, and I was blaming it on our horrible postwoman. (Who wears sweatpants to deliver mail...is that allowed?) Thankfully, the postwoman and
Erin
came through!
You can check out my gifted ornament on
Dreaming of Dimples
TOMORROW, since I posted a day early. I don't blog on the weekends, and ESPECIALLY not now... THE HUBS IS HOME!
Thanks for all the well wishes on Facebook and Twitter! It meant so much to both of us, and I can't even explain how happy I am now. Yesterday was even BETTER than my wedding day! I can't wait to tell you aaaaallllllllll about it.
It's beginning to look a lot like Christmas ;)