It's a pretty widely known fact that I eat and play healthy.
Then last week, I mentioned that I was on a detox, and now thanks to Kristen and Raven, I have the perfect opportunity to share it with you!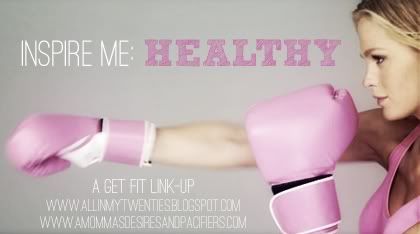 Now when I say detox, I'm not talking about the kind where you drink juice, funky soups, and/or spend days on the toilet.
What I mean, is that I cut my processed foods down and went au naturale for the week.
Technically, I am supposed to eat that way all the time for the Diabetic Diet, but it is a little hard to be that strict all the time. However, I am now sticking to it much easier, because the detox reset my system! I have less cravings, am better at feeling fulfilled with the right amount of food, and even turned down my fave buffalo chicken sandwich after one bite the other day!
Didn't look back, either.
Before I go any further, I need to reiterate that I am not now, nor ever, advocating diets.
At least not in the four-letter-word-version.
I can't tell you how many times people ask me for tips and help, only to be left disappointed that I don't sell them some secret or magical drug, that makes the LB's go *poof*.
THERE IS NO SUCH THING.
Although, I think that being healthy IS magic.
+I've lost weight.
+I have a better complexion.
+I am more focused.
+I have more energy.
+I don't get sick. Like ever. Knock on wood.
+I save money not buying junk food or binge eating.
+I am seriously high on life.
Yep, sounds like magic to me.
So magical that this detox helped me shed two pounds of water weight, and another pound of fat in ONE week! I had gotten up to 115 with a lapse of my eating habits (stupid sugar and sodium), and within a week- it was gone, right along with my cravings.




If you are still with me, I will go ahead and show you the photos.

Gotta keep your attention.



I have figured out that I gain weight each year around this time. How does it happen? Not a clue.
I don't really change anything (to my knowledge), so the only thing I can figure is that my body stores some extra calories to get ready for winter...Maybe I'm crazy, but after a few months- I level out again. Actually, I'm happy to have figured this out, because now I don't stress when I gain weight. I just keep up my healthy habits, and go with the flow.
In order to not "feel" those extra pounds, I like to get rid of the bloat that comes along with it. (Specifically in my face, I hate when my face fills out for realz)
For one week, I didn't worry about calories, but I followed these criteria:
Fats: < 7% of Daily intake approx 30 grams
Carbs: < 221 grams
Cholesterol: < 200 mg
Sodium: < 2,000 mg
Sugar: < 20-30 grams
Protein: approx 60 grams
Fiber: 30-50 grams
I end up getting full faster on the healthy foods, so I never have to pile on the calories, which means that you aren't just losing water weight; you will lose a few pounds of fat as well.
To put it into a layman's terms, I want to share "The Skinny Rules".
I actually HATE that they called it the skinny rules, but unfortunately, if you don't label it as "skinny", people won't take notice. Nobody wants to be healthy, they want to be skinny = Lame.
But alas...this is a great set of rules to follow:
Maybe you won't be able to tell as much as I can, but not only do I feel lighter, I look slightly more toned. It's amazing to me that one week of eating "right" can make such and impact:
But I want you all to remember something:
I use the scale as a visual, and more often than not, to remind myself that I am made of bone and water- not just meat and fat. Hence why I love the Health-o-meter. Nine times out of ten, I can tell exactly what I weigh by how I feel, and how I feel is more important no matter what! As long as I have energy, am sleeping well, am happy, and feel in tip-top shape, then I am happy.
Even when I gain a few pounds.
Be HEALTHY. Not scrawny Skinny.
I also want to make sure you checked me out on Niken's blog, yesterday!
I got to talk about "When I Was A Kid", share some photo doozies, and teared up at Niken's sweet intro for me. Go visit Indonesia for the day, via blog land!