Who cares that it's only November? Not me for sure.
As a matter of fact, I have carols on my ipod year 'round, and bought Michael Buble`s Christmas CD just this past Monday. (It's amazing, in case you were wondering.)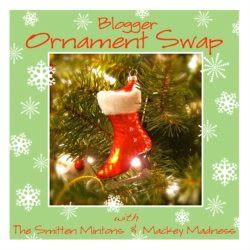 As per Meg, here are the directions:
1) Sign up will run today (11/9) through Wednesday, November 16th.
With your:
-Name
-Email address
-Blog URL
2) On Monday, November 21st, we they will announce partners and y'all can exchange addresses.
3) Purchase an ornament for your partner (spending limit is $15).
4) Ship your ornament by December 5th.
5) We They will have a link-up on both of our their blogs on December 14th so we can show off our new ornaments!
You better bet that I already signed up! Go sign up and maybe we can be partners ;)